The Benefits of Open, Green Spaces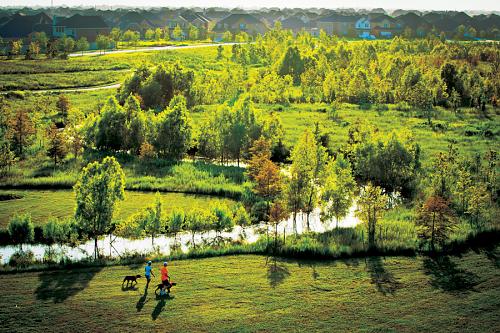 When was the last time you were outside and took a deep breath of nature? At Johnson Development, we realize the importance of clean air and trees, and that's why we incorporate green spaces when planning our communities.
Green spaces include parks and sports fields as well as woods and natural meadows, wetlands or other ecosystems. Green spaces in Johnson Development communities encourage residents to get out and explore nature whether it's a morning jog on the trail, fishing on the lake or joining your neighbors for yoga on the event lawn.
All of these activities are beneficial and contribute to your intellectual, physical and mental health.
How? Trees increase oxygen and purify the air. Open spaces reduce the claustrophobic feeling that can come from spending too much time in large cities. Green spaces are places where people congregate encouraging residents to make friends, which has been shown to increase feelings of happiness and well-being. The relaxing tranquility of nature trails is conducive to reducing stress.
Residents of Johnson Development communities can choose from any number of ways to interact with nature. The spectacular wetlands area found within Cross Creek Ranch, for example, offers opportunities to get close to local wildlife. The forested trails winding through Grand Central Park lead to beautiful lakes where residents can simply sit and enjoy the view or cast a line.
Green spaces don't have to be forests or wetland areas, either. Residents of Harvest Green can garden in their backyard or grow their own food on the 12-acre Village Farm. In Woodforest, centrally located parks encourage residents to gather for festivals and events. Many of our communities have parks within walking space from most homes, making it easy for residents to get outside and enjoy.
Whether you live in a Johnson Development community or not, take a moment to go outside, breathe deep and listen to the sounds of nature. It's good for the heart and the soul.