Our communities are a great place to be at home.
With interest rates near historic lows, now is the time to buy. Low interest rates can make the difference between buying a home and buying your dream home. Find your dream home in one of the many highly desirable communities by Johnson Development.
Use these resources below that we've put together to help you in your home search.
YOUR NEW HOMES BEST SUBURBS BUYER GUIDE!
Are you thinking of upgrading from your current home or transitioning to homeownership? With interest rates near historic lows, now is still a great time to buy. Our guide is packed with useful information to assist you in the process. Download our guide to learn more.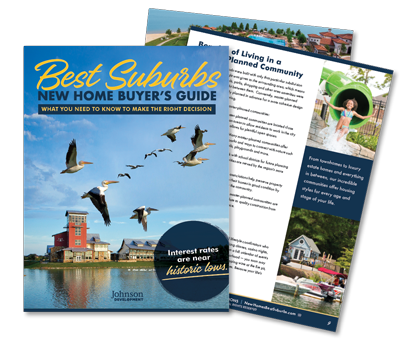 BUYING A NEW HOME HAS NEVER BEEN EASIER
1

Shop from an array of your area's best home builders.

2

Find the perfect home.

3

Contact the builder to arrange a video tour or appointment.

4

Have the contract sent to you electronically.
And you're on your way! We're here for you however you want to shop for your new home — in person by appointment or online.