Johnson Development Ranks Among Houston's Top Workplaces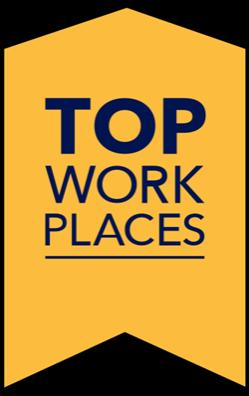 Johnson Development recently landed on a list of top workplaces in the Houston area — and it's no surprise to anyone who works there.
Each year, the Houston Chronicle publishes the Top Workplaces list, dividing honorees into large, midsize and small companies. Surveys completed by employees are tallied to determine who makes the list. Companies whose scores exceed benchmark scores for each size group make the winners list. With 92 employees, Johnson was grouped into the small-company category, which is for businesses with 50 to 149 local employees. It was ranked No. 50 out of the 100 small companies qualifying as a Top Workplace.
Johnson Development has long had an employee-first focus, the trend that attracted the most comments in the survey, with employees wanting more flexibility and more time for family and community. Johnson Development offers flexible work schedules, generous parental leave benefits, a paid time-off program, health care coverage, company holidays and a 401(k), among other benefits. Beyond that, however, employees talk about the unity one feels working with different departments and the culture of giving back that permeates through the company.
This isn't the first time Johnson has been recognized for being a terrific place to work. In 2019, it was named one of Houston's Best and Brightest companies to work for. The next year, Johnson jumped up to one of the Best and Brightest companies to work for in the nation. And in 2021, Johnson was named one of the Best and Brightest program's elite winners, an honor only a handful of companies share. And earlier this year, Johnson Development received a 2022 Best Place for Working Parents® designation.
The Houston Chronicle partnered with employee survey company Energage to compile its Top Workplaces lists. Nearly 5,000 organizations were invited to participate in the survey, and surveys went out to more than 120,000 employees, with 68,365 responding. In all, 200 large, midsize and small companies scored high enough to be called a Top Workplace.