Setting the Stage for Home Sales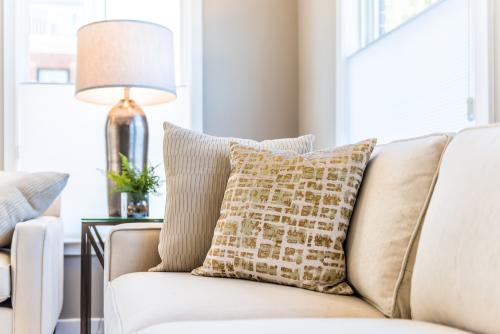 Your house has probably never been cleaner than when you're selling it. But beyond keeping it sparkling clean, savvy sellers know to pack away the trophies, stow away the dozens of framed photos and put out the very best towels.
It's called staging and doing it right can make the difference on how fast a home sells.
Prioritize – but don't forget closets
You have to start somewhere, so start with the wow factor spaces — kitchen, family room and master suite. Show them the most love before moving onto secondary bedrooms and living areas. And you're not completely done until you've cleaned out the closets. You're going to have to pack up all that stuff anyway — why not do it now and help your home sell even faster?
Make a good first impression
You want prospective buyers to feel not just good, but great when they walk into your home. Set those expectations by making sure your front exterior is welcoming and gorgeous. Clean your windows, plant some flowers and put out a beautiful entry mat. Do you have a porch? Flank your door with matching urns packed with flowers or greenery and set out charming outdoor furniture.
And make a BIG impression
You want your home to appear as spacious as possible. Remove whatever you can from your kitchen counters to maximize how much work space there is. Have built-in shelves? Make sure they aren't overflowing. Rearrange furniture so rooms feel as open as possible. Open the window blinds in each room and turn on all the lights during a showing (insider tip – switch to a high wattage bulb). Take as much as possible out of closets, your pantry and other similar areas to showcase storage potential.
Paint to the rescue
Love a red kitchen? Your buyer may not. Give them a neutral palette so they can imagine their family in your home. Paint can also come in handy to refresh dated elements in the home. Does your brick fireplace scream the 1980s? A painted fireplace won't — especially one that matches or complements your wall color. Likewise for that groovy tile in the bathroom.
Want more tips on how to help prospective buyers fall in love with your home? Check out these. And then check out our master-planned communities and start planning your move!