Realtors Pick Johnson Development for Developer of the Year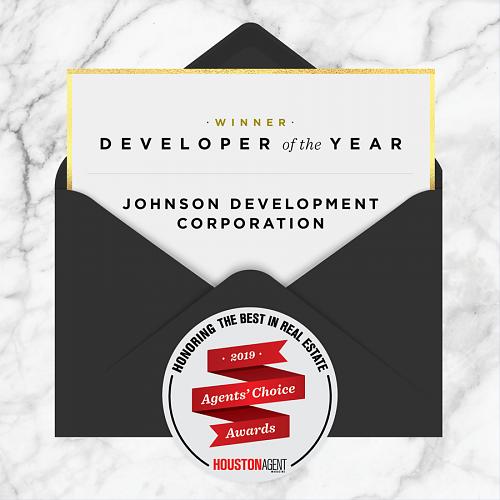 Those who know real estate the best have spoken, and Johnson Development is the 2019 Developer of the Year.
Houston-area real estate agents cast their vote for Johnson Development in Houston Agent Magazine's recent Agents Choice Awards, which asked readers to cast their votes for the best-of-the-best Realtors, websites, loan officers and more.
Developer of the Year is an honor we've been privileged to have before (most recently in April by the Dallas Builders Association), but it's particularly gratifying when the people casting the vote know the Houston real estate market so well. Realtors know which communities offer the best amenities, location, schools and builders because that's where their clients are most likely to purchase a home. And even without this most recent award, Realtors have shown their appreciation for what Johnson Development has accomplished, with many of our communities experiencing well over 80 percent of their new home sales involving a real estate agent.
Because with us, it's all about creating communities where people can celebrate the big and small moments in life. Johnson Development provides the backdrop where our residents can live their lives to the fullest.
Want to see for yourself why Houston-area Realtors are eager to sell homes in a Johnson community? Visit our community pages to learn more.