5 Tips for Working From Home With Kids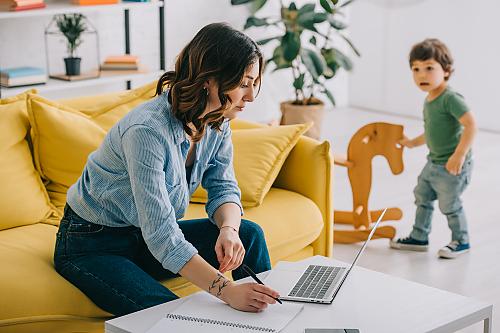 The kids are home for the long haul and probably so are you and your spouse. For those new to working from home, it's a challenge but even experienced couch commuters are trying to balance getting the job done while homeschooling the kids — or at least keeping them occupied while on a conference call.
Here are five tips to keep yourself and your kids on track:
Start Early
If you can, arrange your work schedule around times when the kids are asleep. Get up two hours early and try to get as many projects out of the way that you can. If you can put off some of your work until after the kids go to bed, you'll be more productive and feel less frazzled.
Take Turns
If your spouse also is working from home, divide the day into an afternoon shift and an evening shift. One parents spends time with the kids doing schoolwork, while the other takes over the home office. At lunchtime switch. If that isn't possible, print out a daily schedule so each of you knows when the other needs privacy for phone calls or to meet a deadline. Plan to take the kids out to the backyard or offer them screen time, puzzles or audiobooks.
If you are a single parent, segment your day the best you can. Designate a few hours for work and a few for helping kids with homework. If your children are young, set up a mini office for them and let them play while you work.
Designate Workspaces
When it comes to getting work done, we all need different things. That's true for kids, too. Rather than have everyone working around the kitchen table, utilize your space well. Parents can work in the study while kids can work in their rooms. Also take advantage of game rooms, homework centers and kitchen islands.
Create a Schedule
You probably have an online calendar. Print it out and post it where everyone can see. Highlight the times you must not be disturbed. Then create a schedule for the kids. Build in quiet time to coincide with the times you have online meetings. Let the kids choose their own activities for that time. Don't worry if they choose video games, chatting with friends over FaceTime or Skype, watching television or other non-school activities. It won't hurt them and you will get the privacy you need.
Communicate With Your Boss
Not all bosses are going to be working with their kids at home, so it's important that you explain your unique situation. Ask if you can block off time on your public calendar to let co-workers know you are not available for meetings. Discuss projects that can be put on hold if they are not conducive to working from home. Ask for flexibility. This isn't an easy time for anyone. If all else fails, you can blur your background and press the mute button.