Is The Virtual Office Here To Stay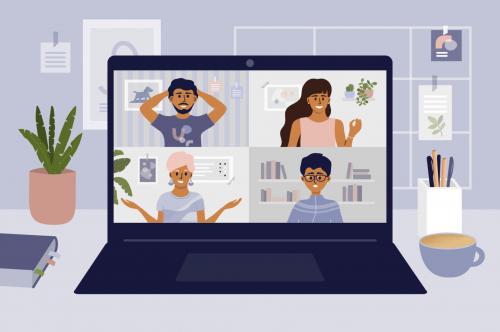 Is the Virtual Office Here to Stay?
It's been less than three months, but the days of hello hugs, packed concert halls and bustling offices seem so long ago.
When will they be back? Will they be back?
It's really a guessing game.
Following are what some pundits have to say and small steps forward that are being taken:
Offices
Many employees may not be returning to the office and instead continue working from home. Some companies such as Microsoft and Zillow are considering extending their remote work policies.
For those who do return to the office, face masks and temperature checks may become the norm. So might staggered work schedules. Goldman Sachs is considering adding infrared body temperature scanners to some offices, the Washington Post reports. Cushman & Wakefield, a global commercial real estate services firm that helped efforts to return workers back to their offices in China, has developed a "Six Feet Office" prototype that reimagines office space to encourage social distancing at work.
Sporting events
Sports these days is a whole new ballgame. Sports fans got their first glimpse of a professional game just in early May as ESPN aired a baseball game in South Korea that showed empty seats — well, sort of empty — there were cutouts of fans wearing masks perched in the seats. Taiwan just announced they will let up to 1,000 people into ballparks to watch baseball games. In the U.S., Major League Baseball has announced Opening Day would be delayed at least two weeks. The National Football League has said its regular season kicks off Sept. 10. The Portland Trail Blazers and Cleveland Cavaliers have reopened their practice facilities for socially distant workouts. NASCAR is returning, but with no fans in the stands.
Concerts
Some music business insiders say it could take 18 months to two years before concert tours and theater runs return to some normalcy. But that doesn't mean there won't be any shows at all. Denmark has introduced drive-in concerts. Tickets were snapped up within minutes for a recent performance.
Arkansas is hosting the nation's first social-distancing concert, setting up "fan pods" — groups of two, four, six, eight, 10 and 12 seats safely distanced apart from other pods. The venue, TempleLive in Fort Smith, normally holds 1,100 but for the May 15 Travis McCready concert, it will hold only 229. Temperatures will be taken at the door and people will have to wear face masks. Limits also will be put on how many people can be in a restroom at one time.
The handshake (or hug)
Pre-pandemic, a handshake was as much of a sign of sealing the deal as a signature. Visiting colleagues were often greeted with hugs.
In April, Dr. Anthony Fauci of the White House coronavirus task force said handshakes probably won't be coming back.
He's probably right — at least for the near future. Instead, we might adopt Poland's polite tilt of the head or perhaps Japan's respectful bow. Maybe it will be an air high-five or a peace sign. Or maybe our words take over as we open up a little more to still make that personal connection a handshake or hug created. And that might not be such a bad thing.