What Buyers Want Now!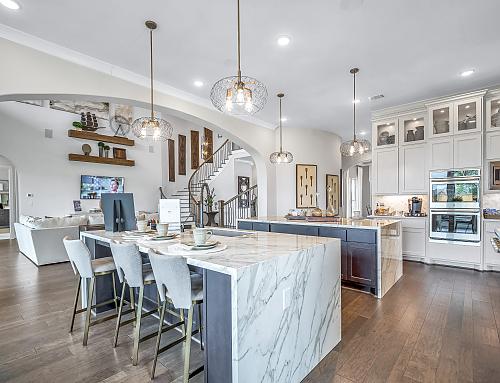 What Buyers Want Now
Right now, people are seeing their current homes in a whole new light. And they may no longer like what they see. Here are some ways homebuyer priorities that may shift in the future.
Bigger Kitchens
Recently, homeowners discovered that they can do more in their kitchens than use the microwave. They also may have discovered that those kitchens are not as functional as they could be. Expect buyers to want large kitchens where families can prepare dinner together. Larger pantries will become important for their ability to store large quantities of food. Islands with counter seating, easy-to-clean countertops and flooring, and tall cupboards will also be popular.
Home Offices and More
Millennials in particular did not feel the need for a dedicated study. Now that more employers are embracing long-term, work-from-home strategies, dedicated office space is a must. Not just one study, either. Dual-income couples will need additional workspace. Technology is also crucial, so homes pre-wired for high-speed internet, charging stations and home automation equipment will ensure sales.
Privacy, Privacy, Privacy
A secluded master suite away from common areas is a must for adults who have been living with their kids 24/7. Extra bedrooms, sitting rooms, game rooms, dens and lofts will ensure family members can have alone time.
Outdoor Spaces
As much as we love our homes, we don't want to stay in them all day. Not all buyers will want a large backyard, but they will want to be able to get fresh air and sunshine. Families with kids will want larger backyards. You may see more couples on the hunt for courtyards and balconies.
Workout Rooms
Gyms are open but people may be hesitant to use them. Enter the home gym. Today's buyers needs a space where they can set up a TV, floor mats, weights, treadmills and other equipment.
More Storage Space
Clutter is not conducive to stress reduction and homebuyers are going to be interested in homes with lots of closet space, garage storage areas and even utility rooms where they can stash an extra refrigerator or freezer.
Energy Efficiency
Working from home, cooking and keeping the air conditioning on will bump energy bills. Future homebuyers will appreciate homes with a low HERS rating.
Master-planned Communities
Master-planned communities are already popular, but they are set to attract even more buyers. These communities offer the hike-and-bike trails, parks, green spaces and other outdoor amenities that people now treasure. They also promote tight-knit neighborhoods and feelings of safety and security — even if we have to be socially distant.