The New Normal for Home Design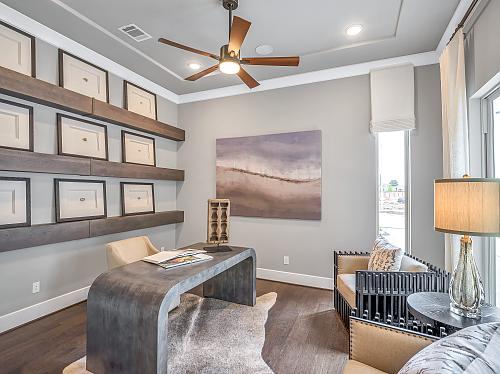 This spring saw most of the nation shift to a new normal of working from home, learning from home, eating at home — in general, staying at home. And while much of the country is emerging from lockdown, a lasting effect is likely to be changes in home design. Here's a look at what a few experts are predicting:
Home offices
People are going back to their offices — some of them. However, some companies are embracing a work-from-home culture, allowing employees to choose whether they work remotely or in the office at least some of the time. Barclays CEO Jes Staley has even stated that remote working could become the new norm.
A home office is going to be a must.
And this home office is going to have to be private, quiet and have enough outlets for computers, multiple monitors, charging stations, printers and everything else to keep work running smoothly. A "Zoom zone" is also encouraged — a presentable, professional space for teleconferencing. Two home offices — or at least a second flexible space that could double as a home office when needed — will become more common.
Rethinking the open floor plan
Togetherness is good — up to a point. Families finding themselves at home for months are appreciating their own space where they can study quietly, watch what they want on television, listen to music, etc. Some architects are predicting that kitchens might start having some separation from the family room — still in sight, but slightly distanced. Interior designers are suggesting that furniture groupings might accommodate a small reading nook or separate conversation zones.
Pantries — they're going to get bigger
Whether it's because of hoarding food, cooking more meals at home or buying more at the grocery store so you didn't have to go as often — food storage has become a priority. Expect pantries to be larger and more functional as people seek to store more non-perishable items. Some homes might even have a second pantry or utility closet for storing paper products and other bulk items. Kitchens and/or laundry rooms might incorporate freezer space.
Keeping things clean
Kitchen design is going to get smarter — literally — as builders incorporate more voice-activated technology that can control lights, faucets and appliances. Hands-free use of these often-touched items will help people feel more secure. Home buyers also might give thought to using finishes that are easier to keep clean and that can withstand harsh disinfectants.
MPCs will be the place to be
Experts are also predicting that people will be drawn to the suburbs as they seek less dense environments. These lifestyle-conscious people, however, will still want places that offer plenty of recreation — particularly outdoor fun. Nearby conveniences — something they are used to — will be another must. All of which can be found in master-planned communities.