Creating the Perfect At-Home Learning Environment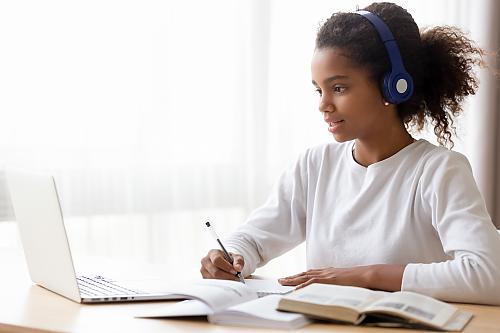 Creating the Perfect At-Home Learning Environment
Many school districts across Texas are opening virtually for the first few weeks of school and then letting parents decide if their kids will be going back to the classroom or continuing distance learning.
If you choose that route, designing an optimal learning environment is the first step toward an A+ school year. Not sure where to start? Here are some tips:
Check With Your District
Each district is responsible for setting up their own guidelines for distance learning, but the TEA offers parents a choice between "synchronous" or "aysnchronous" instruction. Synchronous instruction involves a teacher providing live lessons through video streaming. Aysnchronous instruction involves completing classwork on their own time with occasional check-ins from teachers.
Know Your Child
Not all kids learn the same way so you will need to build your learning environment around your child. Some kids thrive in an online learning environment but for others it's hard. Some kids are auditory learners and some are visual. Young children tend to be very tactile. Figure out how your kid learns and plan accordingly.
Create Their Own Learning Space
Just as adults working from home need a private, quiet office, kids need their own space to do schoolwork. Many new homes offer data or homework centers that are perfect for this. If you don't have one, you can still dedicate space for school. Make sure there are enough outlets for computers, charging stations, printers and anything else your child may need. A "Zoom zone" is a necessity for synchronous learning.
Make It Cool
Bland and boring are a recipe for distraction. Help kids create a cool space that is just for them. Let them add colorful posters and their favorite books. Visit office supply stores to get cute supplies to help them stay organized.
Make It Comfortable
Your child will be sitting for three to four hours a day so make sure they have comfortable chairs and desks set the right height. Add pillows and soft throws. Set up a cozy reading nook where they can read assigned books. The space should be well lit to reduce eye strain.

Don't Forget Calendars
Adults have day planners; kids should have calendars. You can help them set one up on the computer. Or go old-school and create a chart listing homework assignments and due dates for the week. Give kids colorful pens to cross off items upon completion.
Show Their Work
All kids like to be reminded that they did a great job. Rather than putting that A+ math sheet on the refrigerator, create a wall of fame. Kids can post the papers, worksheets, drawings and pictures of science projects they are the proud of on a bulletin board. Knowing they did something well will help motivate them when the going gets tough.