Creating a Gallery of Community Art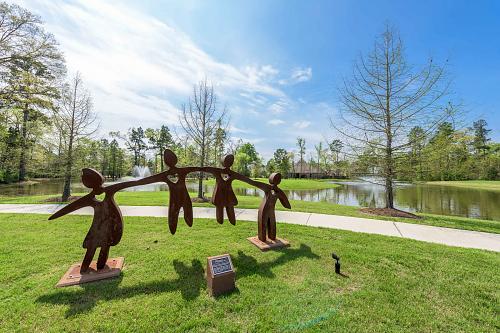 Nearly 20 years ago, Johnson Development began taking an artistic approach to its development — literally.
That approach started with the installation of several bronze statues of horses in a shady stretch of Sienna. The art program has grown in the community since then, and whimsical art pieces can be found throughout Sienna — at the Sienna History Park, Camp Sienna, a community lake and even a pack of stainless-steel canines crafted by artist Jim Collins at Sienna's Village of Sawmill Lake.
The art program expanded into many other Johnson communities, as well. In 2015, Johnson Development celebrated its 40th anniversary with a 16 x 18-foot sculpture by Dale Rogers that would be permanently installed in seven Johnson Development communities. The statute depicts four figures holding hands with outstretched arms. The piece is meant to be uplifting and open for interpretation, letting those viewing the artwork decide for themselves if this is a show of children at play or family togetherness.
Harvest Green in Richmond has several colorful art displays in the farm-centric community. In 2017, the community collaborated with the then Contemporary Art Museum Fort Bend, Travis High School and Youth in Philanthropy to paint a mural on a shed located at the on-site Village Farm. And last year, the community installed 10 brightly designed art cows throughout the development.
Two big art projects made an impact in 2020. This summer, Woodforest installed a stainless-steel sculpture that is a variation of sculptor Mike Roig's "Two Whirleds Two" creation that depicts birds encircling two tapered structural elements. The piece, located at a roundabout in The Crest neighborhood, stands 17 feet tall and has a 14-foot span.
In Veranda, residents could watch woodcarver James Phillips transform five pecan trees that had not survived into fantastic creations. One massive tree features several children climbing and playing along the tree while others are slender carvings of birds near The Cottage House amenity center.
Johnson Development didn't have to add these artful nuances to their communities. But it's just that kind of "going-the-extra-mile" attitude that signals you're sure to find something special in a Johnson community — wherever you might look.