New Year, New You, New Resolution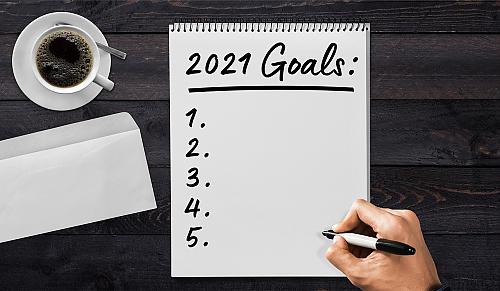 Unless you're more than 100 years old and lived through the 1918 flu pandemic, it is unlikely you've ever started a new year like this one.
You might be working at home (at least part of the time), you're probably not hugging friends hello or gathering in large crowds and who could have ever guessed face masks would be a fashion accessory!
This new year is different. Your resolutions should be, too.
Consider the Why
Why do you want to _________ (fill in the blank)? Is it because you think others want you to lose weight, work harder or save money? That's a big step forward to failure. What do you want to do? If you want to drop some pounds because you think it will make you feel better rather than trying to conform to society's perceived notion of body size, that's an internal motivation. And internal motivations are more likely to lead to sustained changes in behavior.
Keep It Small
You don't eat an apple in one bite. Don't make a resolution that is more than you can chew. If fitness is your goal, maybe your resolution is to take a brisk walk for 15 minutes three days a week. Climb stairs rather than ride the elevator at least once a day or — if you live in a two-story home — walk upstairs once a day for no reason other than exercise. These are bite-sized goals that are easily achievable.
Make It Step-By-Step
Stay with the one goal — walking upstairs once a day — or make it part of a plan. Staying with the fitness theme, add one more achievable goal every month — walking up two flights of stairs a day, doing a 30-second plank each evening, walking 30 minutes three times a week. If learning something new is your resolution, watch YouTube videos for a month and then switch over to reading a book or online articles on your topic. When you feel like you have the beginnings of a skillset, try it out yourself. If learning to cook is your goal, maybe start with a simple recipe rather than Julia Child's Boeuf Bourguignon. Whatever your resolution, start small — you can always add more later.
Rethink Your Strategy
Even if your resolution this year follows the same idea as in previous years (fitness again?), life today may have you approaching your goal differently. Going to the gym any or as often as you want might not be possible due to restrictions. But you can get creative with strength-training routines around the house and taking walks or jogs outside. Want to travel more? That might be easier later in the year, but for now, travel virtually. There are many famous museums and other attractions you can visit online, as well as a wealth of travel videos to be found on YouTube. You'll not only enjoy seeing the sights, but you might pinpoint your first (and second and third) international vacation destination. Get creative on how you're going to meet your goal for the new year.
Tell Yourself It's Okay
Only made it one week? Applaud yourself for your achievements for that week. Made a resolution, but never even started it? Congratulations on thinking about how you'd improve your life. That's a start! Never even gave a thought to a resolution? Good for you on being satisfied with your life! Still going? Fantastic! Wherever you might be on your path to the person you want to be, be kind to who you see in the mirror.