You're Not Just Buying a Home, You're Buying a Lifestyle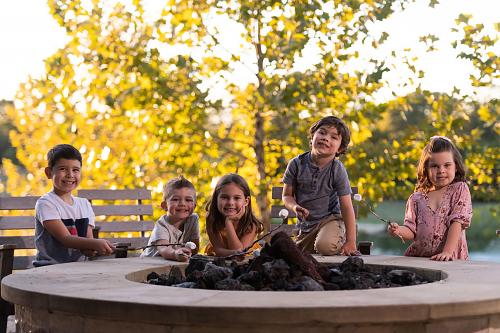 In its announcement of the top-selling master-planned communities for 2020, John Burns Real Estate Consulting said a major differentiator in a community with robust sales versus one without is a "highly desirable lifestyle."
That's something we've known all along — and is probably why we routinely have multiple communities listed among the nation's top 50 and this year have the most Texas communities ranked among the nation's 50 best-selling developments.
Homes don't make a community; having places where people can gather and naturally meet their neighbors, can get outside and connect — even if it is only passing each other while on a jog — that's what makes a community. But for us, that's just the starting point.
Johnson Development communities don't just have a park or two, we endeavor to have amenitized open space within walking distance to most homes. You'll find both active parks — with playgrounds, sand volleyball courts and other features — as well as passive parks where you can sit in the shade with a good book or just admire the surroundings. Many of our pools are better defined as water parks, with distinct areas appealing to a variety of people. Parents of young children love the beach entry lagoons where their little ones can splash in the water. Older children zip down slides or climb in-the-water rock walls. Those wanting exercise enjoy lap lanes. And residents just looking to relax might float down a lazy river or lounge on chaises perched in the water.
Our communities boast fitness centers, tennis courts, basketball courts and sports fields. You'll find dog parks, splash pads, authentic nature trails and luxurious clubhouses. You'll also find on-site lifestyle directors who we call Directors of Fun. It is their task to create a calendar of activities that appeal to all ages. Not only do these Directors of Fun maintain busy calendars — some host more than 75 events a year — they are often the person who helps new families get settled in and introduced to others with similarly aged children or common interests.
Further building upon community, we purposely design our master plans to include space for on-site schools and churches, as well as professional services, restaurants, hair and nail salons and other everyday conveniences. It's not unusual to see a neighbor while buying groceries, picking up dry cleaning or getting a bite to eat.
Yes, our communities offer new homes in Austin, Dallas-Fort Worth, Houston and Atlanta. But what you are really getting when you buy a home in a Johnson Development community is a way of life that is fulfilling, memorable and cherished.