City Central Fulfills Master-Planned Vision for Grand Central Park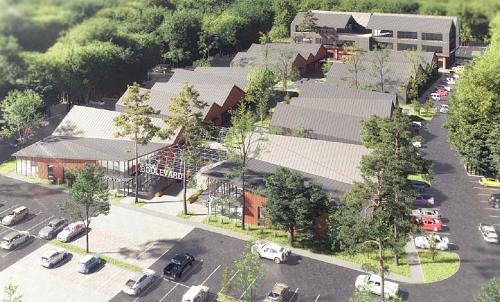 Communities by Johnson Development are designed as master-planned communities. What does that mean? They are communities where people can live, play and work. Many Johnson communities have vibrant commercial districts that add to the appeal of the area.
One such district is blossoming in Grand Central Park, located in Conroe. Grand Central Park's City Central encompasses the now open Sam Houston State University College of Osteopathic Medicine and Marcel Boulevard, a mixed-use development currently under construction. This open-air market stretches along 10.5 acres, offering 68,180 square feet of retail and restaurant space and an additional 32,400 square feet of space for executive offices, special events and entertainment.
Leasing within Marcel Boulevard has begun, with executive office suites, a real estate company, med spa, beauty and wellness services, a restaurant and café as tenants. Lined with trees and pedestrian friendly, Marcel Boulevard will be a destination for work and play.
Nearby on 7.5 acres will be a new $92 million hotel and conference center with a five-level parking garage, pool, lounge, bar and restaurant. The 250-room facility also promises 31,000 square feet of ballroom and meeting space. The City of Conroe will own the hotel and lease it to a luxury hotel operator. The city expects construction to be complete in November 2022.
City Central is located along Interstate 45 and Grand Central Parkway, allowing easy access to the district and into Grand Central Park. A landscaped/hardscaped roundabout is a signature feature of City Central. From there, Grand Central Parkway will extend west into the heart of the community, winding its way past Deer Lake to intersect with Town Park Drive near The Lake House amenity complex, now open. Grand Central Park's forested setting provides a natural buffer between the hustle and bustle of City Central and community neighborhoods.
City Central isn't Grand Central Park's only commercial district. Early in development, 336 Marketplace opened. With 250,000 square feet of retail space, 336 Marketplace offers a host of conveniences, including Kroger Marketplace, HomeGoods, Marshalls, Ulta Beauty and Dick's Sporting Goods. Restaurants include Torchy's, Chick-fil-A, MOD Pizza and Whataburger.