3 Johnson Communities Rank Among Nation's Top-Selling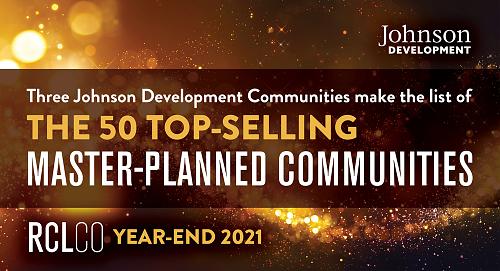 The annual list of the country's top-selling communities is out, and once again, Johnson Development has multiple communities included.
Ranked among the nation's top 50, according to housing think-tank Robert Charles Lesser & Co. (RCLCO), are the Johnson communities of Sienna, Woodforest and Cross Creek Ranch.
With 646 new-home sales in 2021, Sienna ranked No. 25 on the RCLCO list. The 10,800-acre Missouri City community boasts a wide array of housing choices and a generous amenity package with on-site water parks, two fitness centers, tennis courts, a golf course, a dog park, a sports park, miles of trails and numerous parks and playgrounds. Seven Fort Bend Independent School District schools are located on-site. This year marks 25 years of home sales for Sienna, which has been Johnson Development's top-selling master-planned community since 2019.
Woodforest ranked No. 45, according to RCLCO, with 468 new-home sales in 2021, a 21 percent increase from 2020. Located in Montgomery County, Woodforest also offers a wide range of homes, multiple pools, sports courts, parks and playgrounds. The Pine Market commercial center of the community welcomed numerous stores, restaurants and conveniences in 2021.
Ranking No. 48 with 458 new-home sales is Cross Creek Ranch in Fulshear. Buyers can choose from a variety of floor plans in the community, and residents enjoy access to several pools; disc golf; a dog park; playgrounds; and courts for tennis, pickleball, basketball and wall ball. Four schools are located onsite. Cross Creek Ranch just released the first homesites in the final 300 acres to be developed in the community.
According to RCLCO, the 5 percent year-over-year increase in home sales during 2021 was modest compared to 2020. A lack of inventory culminating from supply chain disruptions, a tight labor market and surging costs was the primary reason for the slow gains.