Harvest Green Farm Gains Certified Organic Designation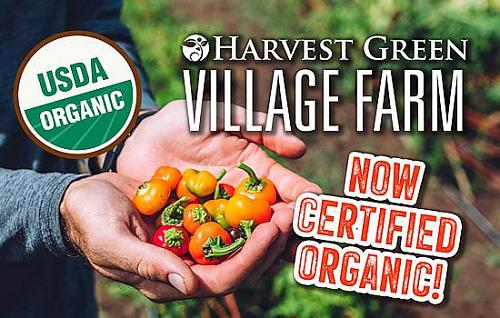 Harvest Green, Houston's first farm-centric community, recently achieved another milestone. The United States Department of Agriculture designated the vegetables, fruit and herbs grown on the community's Village Farm "certified organic."
The Johnson Development community is now one of only three certified organic vegetable farms in the Southeast Texas area.
Harvest Green Farm Educators have utilized organic practices such as organic seed, cover cropping, habitat preservation, natural pest control, organic fertilizer and many other farm management practices since the first crops were planted. Up until recently, they have been unable to call their food organic, though.
To do so, they had to undergo a three-year "transition process" to ensure the soil was free from contaminates. After that, an application was presented to the USDA through the Texas Department of Agriculture (TDA). The farm was inspected earlier this year by an independent third-party inspector to verify that the farm's organic systems plan is being followed. Once the report was reviewed, the farm received certification.
The organic produce can be purchased at the Harvest Green Farmers Market open from 8 a.m. to noon on the first and third Saturdays of the month. Residents also can participate in a farm share program that delivers produce straight from the farm to their doorstep.
Johnson Development Corp. was the first developer to bring the agrihood concept to the Houston area. The idea was to create a community that would cultivate health and wellness by putting sustainably grown produce on residents' tables.
Home buyers flocked to the community when sales began in 2015. By 2021, builders had just over 100 homes left for sale in Harvest Green's original 1,300 acres. To accommodate the needs of interested homebuyers, Johnson Development purchased an additional 630 acres adjacent to the community. The new tract will add approximately 1,400 homes to its master plan.
Harvest Green has continuously appeared on lists of the top 50 best-selling master-planned communities in the nation as well as garnering numerous awards. The community was most recently named the 2021 "Best Overall Community" in Texas by the Texas Builders Association.