Purple Heart Recipient Surprised with New Home in JDC's Jordan Ranch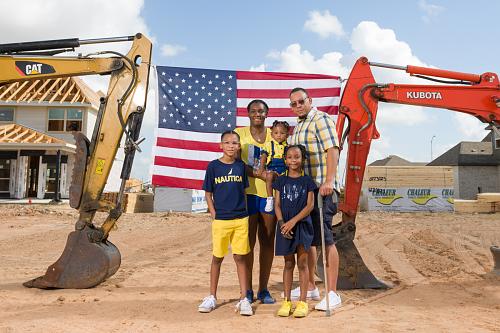 We're excited about every homeowner who moves into a Johnson Development community, but we're especially excited to soon welcome U.S. Army SPC Fernando DelPozo, Jr., and his family to Jordan Ranch.
We recently donated a lot in our Fulshear community to Operation Finally Home, which selected the DelPozo family as the recipient of a mortgage-free home being built by Highland Homes. The DelPozos were told they were to meet with Operation Finally Home and Highland Homes for an interview as the next step in their application process. Instead, they were told in a surprise ceremony they had been selected as the homeowners.
The gift of the mortgage-free home is a way to thank Fernando — a Purple Heart recipient — for his service and sacrifice. He joined the army in 2009, and while serving in Afghanistan as a lead gunner, his convoy was attacked. Fernando was in a vehicle that was directly above an IED when it detonated. The vehicle was flipped, and he suffered significant injuries, forcing a medical evacuation. Fernando was hospitalized for treatment and was temporarily paralyzed from the waist down.
The IED explosion left him with a traumatic brain injury (TBI), chronic back pain that restricts movement and causes him to use a cane, arthritis throughout his body, combat-related PTSD and anxiety.
In addition to the Purple Heart, Fernando has been awarded an Afghanistan Campaign Medal with campaign star, an Army Achievement Medal, a National Defense Service Medal and a Global War on Terror Service Medal and Combat Action Badge.
Fernando met his wife, Adreena, while training in Tacoma, Wash., in 2011. The couple married in 2012 and moved to Texas following Fernando's honorable discharge from the military. The couple has three children and currently lives in Hockley. Adreena is pursuing a bachelor's degree in nutrition while homeschooling the oldest two children.
Despite his limitations, Fernando is active with fellow veterans and enjoys hiking, fishing and cooking.
Operation FINALLY HOME first selects a builder for each project and then moves on to choosing a veteran and location. Partnering with builders, developers, corporate sponsors, builder associations, individual contributors and volunteers, the organization is able to deliver a custom-built, mortgage-free home to selected military heroes. In addition to Highland Homes, the builder's trades and suppliers, and Johnson Development, others providing financial support for this project are the Houston Texans, USAA and the Greater Houston Builders Association.