Johnson Development Acquires Property for Residential Development in Magnolia, Texas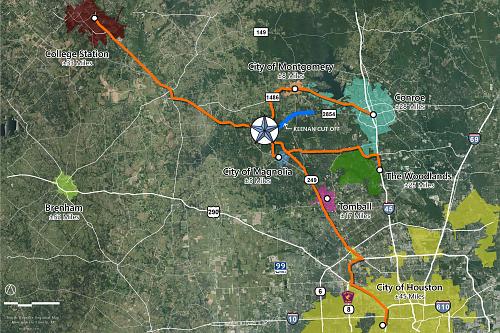 Johnson Development and joint venture partner IHP Capital Partners have acquired the initial phase of what will ultimately be a 1,400-acre new home community in Magnolia. The community is expected to accommodate up to 3,700 new homes.
The land is near the intersection of the new State Highway 249 extension and FM 1486.
"This new community's location along the Aggie Expressway opens up a new market, providing people who work in and near College Station, and in Montgomery and Grimes counties, an opportunity to purchase a new home within an accessible, vibrant and well-planned community," said Michael Smith, president and chief executive officer of Johnson Development. "We anticipate this community to draw people looking to be close to both College Station and the Houston area, and who are seeking a quality living experience with ample amenities."
Not yet named, the community will offer a variety of homes, including single-family homes and townhomes. There will also be a commercial corridor along State Highway 249 providing shopping and dining options, and land within the community will be dedicated to a new school within the Magnolia Independent School District.
"The community will include an upscale amenity complex like those found in other Johnson Development communities," Smith said. "With very similar wooded terrain, this new community will be comparable to what has been developed in our community of Woodforest."
This is the second residential project Johnson Development and IHP Capital Partners are developing together.
"The Magnolia community is a perfect follow-up to Veranda, a beautiful and successful master-planned community also located within the Houston area that IHP and Johnson completed together," said Richard Whiteley, co-president and chief operating officer at IHP Capital Partners. "Our firms came together eight years ago and we are proud of the sustained partnership and relationships we've established."
"Notwithstanding the current market turbulence, IHP has a bullish long-term outlook on housing fundamentals in the Houston housing market," Whiteley added. "Partnering with the skilled team at Johnson Development increases our level of conviction in this new investment."
Wade Nelson with The Nelson Company led the sale transaction of the Magnolia property. Builders are expected to receive lots in late 2024.
This new community is the third Montgomery County community for Johnson Development, which has been developing in the county for two decades. Woodforest is located in Montgomery north of FM 1488 and Grand Central Park is in Conroe at Interstate 45 and Loop 336 South.
Johnson Development has 19 active communities — 15 in the Houston area, two in Dallas-Fort Worth, one in the Austin area and one in Atlanta. These communities are located on 47,500 acres and have entitlements to build more than 80,000 residential units and 16.7 million square feet of commercial and retail space. For the past five years, Johnson Development has had more communities ranked among the nation's top-selling master-planned communities than any other developer in the nation.