'Exercise More' Resolution Made Easy!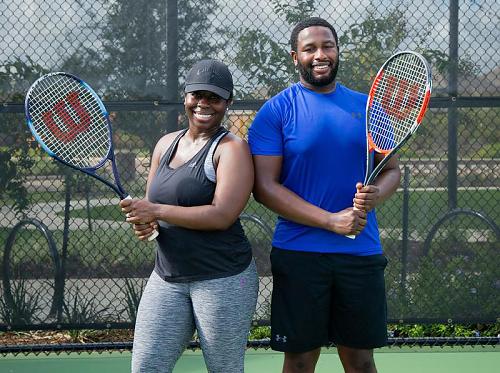 The top resolution for 2023 is to exercise more, according to website Statista.
Coming in at No. 2 for the most common New Year's resolutions to be broken? Exercise more!
Whether it's not knowing how to begin, not fitting exercise into your already busy schedule or just becoming bored, it can be hard to keep this popular resolution, as so many have found out.
Unless you live in a Johnson community.
Many Johnson communities have fitness centers, fitness parks, and sports courts and fields that can make that exercise resolution more attainable. And all have trails, so there's no excuse not to get out for a walk or jog. Here are ways our residents find it easy to add more exercise to their daily routines.
Make It a Game
If mindless hours on a treadmill or exercise bike is your idea of how not to stay motivated, why not play a game? Parents can burn energy on the playground with their kiddos — the playground at Sawmill Lake Club in Sienna offers a zipline that we've seen all ages enjoy. Residents of Cross Creek Ranch and Trinity Falls get a workout on the disc golf course. On average, you can burn 400 calories an hour playing tennis, as residents in our communities of Riverstone, Sienna, Viridian, Woodforest, Harvest Green, Cross Creek Ranch, Jordan Ranch and Veranda can attest to. You can burn even more playing basketball — just ask residents of Cross Creek Ranch, Sienna and Woodforest.
Have an Exercise Buddy
You don't have to be in team sports to have an exercise buddy. Residents of Johnson communities often pair up for walks and runs — several communities even boast walking and running clubs. Residents meet up at the fitness center and do weights together, motivating each other to push a little harder. Friendships are made at the fitness studio as residents regularly attend yoga, Zumba HIIT and other classes.
Change It Up
Changing up your workout routine not only keeps you from getting bored, it also will work a new group of muscles. Many residents of Johnson communities take advantage of community lakes for kayaking or canoeing. Even catch-and-release fishing can burn more calories than just sitting at home watching fishing on TV. Heard about pickle ball, but never tried it? Residents of Cross Creek Ranch head to Pine Park to play pickle ball, wall ball and perfect their putting. Residents of the Bonterra active adult communities in Woodforest and Cross Creek Ranch also have the opportunity to play bocce ball and pickle ball. Harvest Green residents add an extra element to a regular yoga class when they attend goat yoga. Residents in Trinity Falls, Grand Central Park, Bryson and other communities replace "going for a walk" with "going for a hike" on authentic nature trails.
Set Attainable Goals
"Exercise more" is a worthy goal, but if you want to achieve it, you should define how you're going to make that happen. Want to walk more? You often read about taking the stairs to your office rather than the elevator. Residents of Johnson communities often leave the car at home and walk or bike to the pool, school or a neighbor's house. Others walk their dog to the dog park, exercising both themselves and their pooch.
Or maybe you're going to devote 30 minutes in the evening to exercise (you can always record or later stream your current favorite show). Go for a walk, go for a swim or head to the fitness center for a quick workout — it's easy when there's one right in the community! Plus, fitness directors in Harvest Green, Cross Creek Ranch, Viridian, Riverstone and Sienna help residents set fitness goals, show them workout routines and even offer tips on healthy eating.
Stay Strong!
Whether you are just getting started on your journey to exercise more or already have exercise a part of your daily routine, we hope you're lucky enough to live where it's easy to get outside and get moving. If the active lifestyle of living in a Johnson community sounds appealing, you can view available homes here.