Johnson Communities Make a Difference Across Houston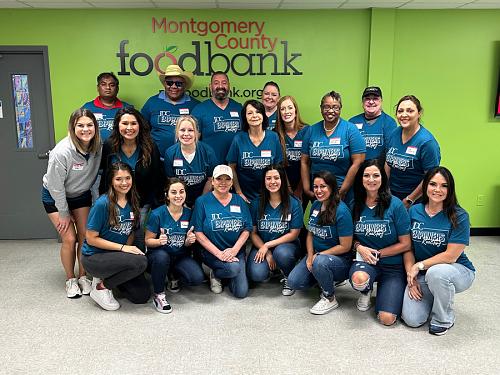 From Montgomery County to Fort Bend County, Johnson Development communities are making a difference.
Development teams from Woodforest and Grand Central Park recently joined local real estate agents to spend the morning at the Montgomery County Food Bank, spending the morning packing enough food for 4,725 meals.
The volunteers were split into two teams — one that sorted and packed more than 2,300 pounds of produce while the other filled 368 boxes of bagged rice and beans for boxes of meals. The crews worked with food bank "Red Shirts," experienced food bank volunteers who could oversee the work and answer questions.
"They did an awesome job," said Volunteer Services Manager Andrea Richardson. "Their work will result in 4,725 meals out into the community just in the couple of hours they spent packaging the rice, beans and produce. Every volunteer involved with us in any capacity makes an incredible impact."
The Feb. 22 volunteer event is one of four that Woodforest and Grand Central Park have planned this year. In April, they will invite Realtors to join them volunteering at the Montgomery County Animal Shelter. September will see them return to Habitat of Humanity Montgomery County for a Build Day. In December, the group will help out at Meals on Wheels. The "Giving Day" initiative is part of the communities' Empower Realtors program, a series of classes and events to help real estate agents personally and professionally.
In Fort Bend County, our communities Cross Creek Ranch and Cross Creek West wrapped up last year's Give Back, Build Hope campaign with a combined donation of $35,000 to five local charities.
The campaign gave a donation to Fort Bend charities Abigail's Place, Brookwood Community, Family Hope, Fort Bend PAWS and Reining Strength for every home sold in the two communities during December.
In addition to monetary donations, the two communities collected requested items such as toys, cleaning supplies, diapers, pet food, office supplies and more for the charities.
"Reining Strength Therapeutic Horsemanship is so grateful for the donation and in-kind donations of supplies to help out at the barn," said Heather Hernandez with Reining Strength. "With 18 equine staff members and over 100 weekly clients with physical, cognitive, social and emotional needs, we do a lot of cleaning! Having the supplies brings some much-appreciated budget relief."
Fort Bend County Health & Human Services Director Rene Vasquez is also appreciative of the support.
"PAWS is a great organization that supports our shelter by offsetting a variety of expenses that we cannot budget for," he said, "things like medical, spay and neutering of the animals, heartworm treatment and prevention, and all sorts of amazing necessities that we utilize for the animals at our shelter. Without great partnerships like these, we cannot run the shelter the way we do."
Since the campaign's inception, more than $75,000 has been donated to Fort Bend charities, and we expect that number to climb as Cross Creek Ranch and Cross Creek West again host Give Back, Build Hope later this year. The campaign's far-reaching impact led to it winning the 2022 Houston's Best PRISM Award for Charitable Project of the Year given by the Greater Houston Association of Builders.