Johnson Development Honors Founder With Inaugural Celebration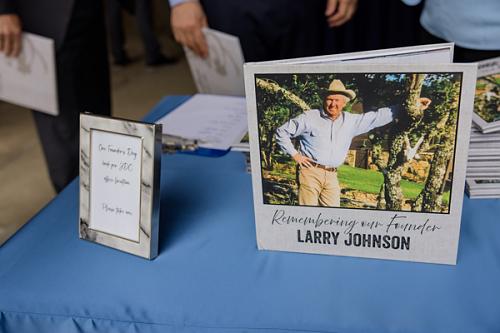 Johnson Development employees gathered in Grand Central Park March 7 to remember and honor Larry Johnson in the organization's inaugural Founder's Day celebration.
March 7 is the birthday of Larry Johnson, who founded Johnson Development in 1975 and passed away Jan. 5, 2022.
"Larry made a significant impact on the land development industry and on all those who knew him, so we wanted to do something that would commemorate him for not just his achievements in residential and commercial development, but as our mentor and friend," said Johnson Development President and Chief Executive Officer Michael Smith. "Larry set a new standard for residential development through Johnson Development. His legacy continues to inspire developers and planners all over the world, and our communities stand as a testament to his power of vision, hard work and dedication."
The Founder's Day celebration began with a ribbon-cutting for an oak tree planted recently in Grand Central Park in Johnson's honor. It continued at The Lake House outdoor pavilion, where attendees shared memories and enjoyed refreshments. A scrapbook filled with photos, quotes and history was given out for each Johnson Development office.
In the book, Smith remembered Johnson instilling values to treat people right.
"Remember that the builders are our clients," Smith recalls Johnson telling him. "Take care of them in the down times and they will take care of you when things improve."
Vice President of Human Resources Annette Black recalls Johnson's ideas about failure.
"Don't worry about failure," she said he once told her. "It's part of being successful."
And successful Johnson was, creating his first company in 1967. Johnson Development Corporation followed in 1975, with Johnson skillfully growing his business as he capitalized on the growth in the greater Houston region and other markets. At his passing, Johnson Development had 19 active residential communities in Houston, Austin, Dallas-Fort Worth and Atlanta. Since January 2022, the company has announced the acquisition of land for two more Houston-area developments.
Central to the success of Johnson Development — which has had more top-selling master-planned communities than any other developer over the past decade — has been a drive to innovate that elevated the standard of master-planned community development.
"Something LJ said to me so many times it is embedded in my head," said son Chad Johnson. "He would use this quote as it was related to spending on projects and events to the standards of Johnson Development. LJ would say, 'Chad, it just takes a little bit more to go first class.'"