Accolades Pile Up for Houston's Real Estate Market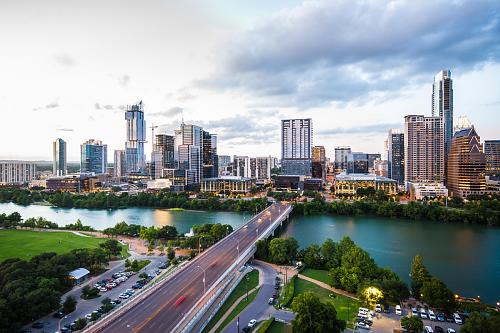 No doubt about it — Houston has a phenomenal real estate market.
The latest in a string of accolades related to Houston's real estate market puts the city as having more new home construction than any other city in the country. According to a report by website Chamber of Commerce, there have been just over 23,000 single-family and multi-family permits issued for the Houston area so far in 2023. Of those, 15,391 were for single-family homes. Information was gathered from the U.S. Census Bureau and the Department of Housing and Urban Development.
Thousands of those permits have been issued for new homes in a Johnson community. Last year, builders sold more than 3,000 new homes in our Houston-area communities. So far this year, home sales are up compared to last year — and not just in Houston, but in all of our markets.
One reason there is so much residential construction right now could be because so many people are moving to the Houston area. For a second consecutive year, Penske Truck Rental lists Houston as the top destination for one-way consumer rentals, based on the previous year. Coincidentally, Dallas, Atlanta and Austin — all markets with a Johnson community — were also ranked in the top 10 moving destinations. The number of people moving to the Houston area brings the area another honor — having the most top-selling master-planned communities (11) ranked among the nation's 50 best-selling communities than any other metro area in a report released by John Burns Real Estate Consulting.
Another No. 1 ranking encompasses not just residential real estate but commercial construction, as well. StorageCafe looked at January 2013 to December 2022 data from the U.S. Census Bureau, Commercial Edge and Yardi Matrix to determine which of the country's largest markets had the most residential and commercial construction. Houston earned the top spot on the list with about 55,600 permits for single-family homes, almost 90,000 new apartments, 5.7 million square feet of storage space, 66 million square feet of industrial space and 27 million square feet of new office space. Texas' other major cities — San Antonio, Austin, Fort Worth and Dallas — rounded out the nation's top five real estate markets, respectively.
Like Houston, Johnson Development also holds a title that was a decade in the making — more top-selling master-planned communities than any other developer over the past 10 years.
We are proud to call Houston our home base and to have shaped development here and in several other notable real estate markets across the nation.