New Johnson Development Community Honors Founder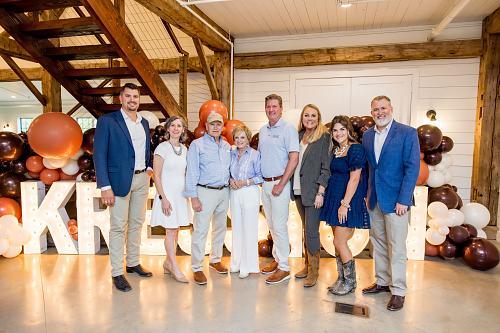 The name of Johnson Development's newest community, Kresston, is a tribute to the company's founder and the type of small-town ambiance residents can expect.
Kresston, a 1,400-acre community in Magnolia, is inspired by Kress, Texas, a town of fewer than a thousand residents that is about an hour south of Amarillo. It is the birthplace of Johnson Development Corp. Founder Larry Johnson, who passed away in early 2022. The name was announced July 27 during a community kick-off and name reveal event in Magnolia attended by Johnson Development staff, local officials and others involved with the project.
"Naming a residential community is rarely easy," said Virgil Yoakum, Senior Vice President and General Manager of Kresston. "There's a lot to consider — is it unique, will it be memorable and what kind of tone does it set for the community? This time — with it being the first community we've named since Larry's passing — we knew we wanted to do something to add to his legacy."
Born in 1940, Johnson grew up on a 300-acre tenant farm in Kress, working alongside his family to raise crops and animals. He played quarterback for the Kress Kangaroos, earning a scholarship to play football at Texas Tech University. He then attended law school at the University of Texas Austin before moving to Houston in 1962 to start his career in residential real estate.
"That strong work ethic and small-town sensibility stayed with Larry throughout his career and are the primary reasons our communities have such a focus on lifestyle," Yoakum said.
Kresston is near the intersection of the State Highway 249 and FM 1486. It is expected to accommodate up to 3,700 homes and will offer a mix of homes and townhomes. A commercial corridor along State Highway 249 will bring additional shopping, dining and conveniences to the area. Kresston's site plan also includes an amenity complex, open space and land dedicated to a new school within the Magnolia Independent School District.
Johnson Development announced the acquisition of the land in late 2022.
"Our vision for Kresston is for the community to have a small-town, everyone-knows-everyone sensibility," Yoakum said. "With its location along the Aggie Expressway, Kresston can be an ideal location for people who work in either College Station or the Houston area. No matter where you work, however, coming home to Kresston will be like returning to your sanctuary."
Kresston is Johnson Development's third Montgomery County community. Woodforest is located in Montgomery north of FM 1488 and Grand Central Park is in Conroe at Interstate 45 and Loop 336 South.
"With a similar terrain, Kresston will reflect how our other communities have been developed," Yoakum said.