Houston Agent Magazine Names Johnson Development 'Developer of the Year'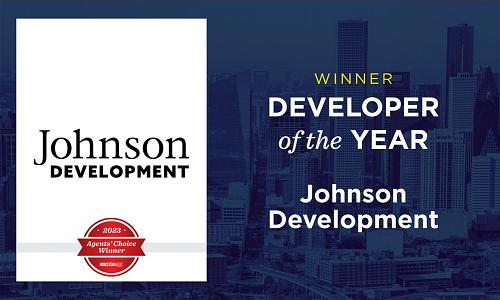 For a third year, Johnson Development has been named "Developer of the Year" by readers of Houston Agent Magazine in the publication's annual Houston Agents' Choice Awards.
It's not an honor we take lightly — real estate agents are in-the-know when it comes to the local market. They know the area's communities, the builders and the developers — and which are preferred by their clients. In fact, approximately 85 percent of new home sales in our communities involve a Realtor, with hundreds of Realtors themselves choosing to live in a Johnson community.
And as the real estate community supports our mission to create communities that celebrate life, we have a team dedicated to helping Realtors both professionally and personally. Throughout the year, we host classes on a variety of industry topics, as well as subjects meant to boost well-being. Realtors have enjoyed classes on self-defense, how to apply make-up and accessorize (with a professional photo session at the end of the class) and even how to salsa — because who doesn't like to salsa? Probably our biggest event was a virtual class with real estate coach Tom Ferry that drew more than 200 agents.
We also get Realtors out into the community — and not just Johnson Development communities. We also invite them to join us on volunteer days, and together we've stuffed boxes of food for local food banks, helped build a home with Habitat for Humanity and worked at an animal shelter. We've also supported Realtor-nominated charities with donations of money and manpower.
As you can see, we take our partnership with Realtors to heart, which makes it all the more meaningful to be voted their Developer of the Year for a third year. Congratulations to the other real estate agents, builders and more who also were named winners in this year's contest We are honored to share the stage with you!